DSV makes warehouse automation accessible for companies of all sizes
Listen to the story (FreightComms AudioPost)
DSV will invest in a string of 20 automated DSV Fulfilment Factories across Europe, North America, and APAC. These large-scale multi-user facilities enable DSV to offer warehouse automation to all sizes of companies across different markets and distribution channels, both B2C and B2B.
For many companies – especially small and medium-sized – optimizing the warehousing setup to cope with the surge in e-commerce demand is a challenge. Companies both need the efficiency of automated processes as well as the flexibility to manage fluctuations in demand. At the same time, warehouses must be strategically located close to the end-user to secure swift distribution to the nearby areas.
With DSV Fulfilment Factory these pain points are addressed. The string of automated warehouse facilities can cater for the specific needs while the goods are stored in regional hubs as close to the end user as possible. The company will have direct access to information at their convenience and only needs to focus on their core business activities. DSV will take care of the order fulfilment and will scale up or down according to the demand.
"With DSV Fulfilment Factory companies do not need to be a multinational to get automated, competitive and efficient warehousing. We know there is a significant gap in the market for automated warehousing solutions for companies without enormous volumes because, usually, these solutions, such as AutoStore, are only accessible as a single-user solution for companies with a certain scale," explains Ronald Poort, Executive Vice President, DSV, and he continues:
"We are investing significantly in a string of 20 interconnected automated facilities across several continents, so our customers can get access to the much-needed automated capacity. By doing so, we are providing companies of all sizes with the opportunity to get access to DSV's automated solutions matching their fluctuating needs in one market or across multiple. I believe that a large-scale multi-user automated facility combined with the logistics capabilities of a 3PL is a rare – if not a unique – offering in the market."
Increased flexibility and lower costs
The DSV Fulfilment Factory concept aims to be relevant for both existing as well as new DSV customers who can benefit from more flexibility and lower warehousing costs. They will be an integral part of DSV's larger campuses, creating an efficient, cost effective and flexible solution for the company.
The concept is based on AutoStore technology, delivered by Element Logic, with goods-to-person automated workstations in a plug & play format. This enables DSV to accommodate the surge in, for instance, e-commerce demand by allowing the skilled warehouse employees to work more effectively than before.
The twenty facilities will be placed close to regional logistics hubs on several continents. They are all connected on a 'string', which means that one company can have stock placed in multiple warehouses across regions or continents while at the same time having one stock overview.
The interconnectivity across facilities brings flexibility into the picking, packaging, and delivery processes, as the system will automatically choose the product at the warehouse closest to the delivery point for swift delivery.
Twenty DSV Fulfilment Factories across several continents
The multimillion EUR investment in DSV Fulfilment Factories will be rolled out in several phases. Already now, four of the twenty automated warehouses are in operation, while an additional six are underway. The ambition is that all twenty DSV Fulfilment Factories are built during the next few years.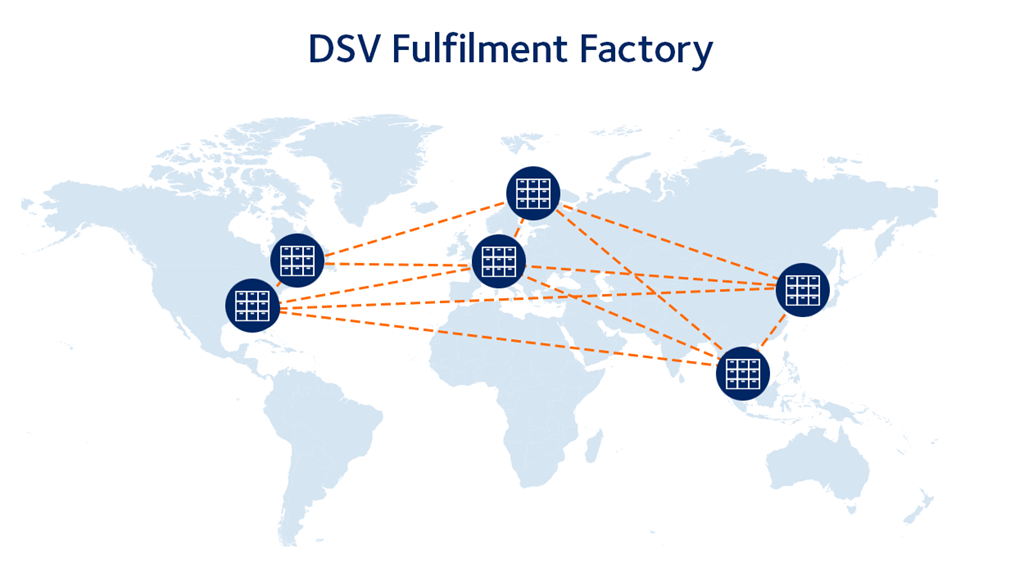 Kuehne+Nagel acquires South African freight forwarder Morgan Cargo
Listen to the story (FreightComms AudioPost)
Kuehne+Nagel signed an agreement to acquire Morgan Cargo, a leading South African, UK and Kenyan freight forwarder specialised in the transport and handling of perishable goods. During 2022 the company handled more than 40,000 tonnes of air freight and more than 20,000 TEU of sea freight globally, managed by approximately 450 logistics experts.
The acquisition of Morgan Cargo ideally complements Kuehne+Nagel's perishables logistics service offering, while improving connectivity for customers to and from South Africa, the UK and Kenya, which includes state-of-the-art cold chain facilities.
Yngve Ruud, Member of the Management Board of Kuehne+Nagel, responsible for Air Logistics, commented: "With Morgan Cargo, we acquire a reliable logistics service provider for the benefit of our customers. Expansion in high-growth markets such as Africa clearly ties into our Roadmap 2026 and reinforces our commitment to the Middle East and Africa Region. We have been active in Africa for many years, but this acquisition is an ideal addition to our regional presence."
Schalk Bruwer, CEO of Morgan Cargo, added: "We wanted to expand our successful family-owned business and took the opportunity to become part of one of the world leaders in logistics. This new development will provide greater opportunities for our customers in terms of global reach and allow our team to advance their careers beyond the realm that was previously possible. Morgan Cargo is extremely excited to become part of Kuehne+Nagel."
Closing of the transaction is expected during the third quarter of 2023 and is subject to customary closing conditions, including clearance by the competent merger control authorities.
Yusen Logistics partners with Toyota Motor to accelerate decarbonization
Listen to the story (FreightComms AudioPost)
Following on from last week's press release Toyota to decarbonise its logistics activities in Europe, Yusen Logistics Europe partners with Toyota Motor Europe in this proactive approach to alternative powertrain development.
Together with VDL Special Vehicles, Yusen Logistics is honored to be part of the team to help accelerate the decarbonization of Toyota's logistics network with the use of hydrogen fuel cell trucks. Using Toyota's fuel cell modules VDL will convert an existing vehicle into a zero-emission truck for Yusen Logistics to operate within Toyota Motor Europe's logistics network.
The innovative technology project is a significant step towards reducing both companies' overall carbon footprint and aligns with Yusen Logistics' wider commitment to working together with our partners and communities towards a more sustainable future.
cargo-partner becomes part of Nippon Express Group
Listen to the story (FreightComms AudioPost)
As cargo-partner is celebrating its 40th anniversary, company owner and founder Stefan Krauter has decided to sell the Austrian global logistics player to Japanese stock-listed Nippon Express Holdings, which is also the parent company of Nippon Express, APC, Franco Vago and others. Having started operations in 1983 with only five employees at Vienna Airport and having developed the company almost completely organically to now 4,000 employees in 40 countries around the globe, Stefan Krauter had already passed on the baton to his management and now has also passed over ownership to his "ideal successor" NX.
After exceeding the billion euro mark in global turnover for the first time in 2020, cargo-partner's turnover increased by 72%, reaching over 1.8 billion euro in 2021, and further increased to 2.06 billion euro in 2022.
"Leadership by agile founders bears some considerable advantages, but from a certain stage on, highly professional and long-term stable ownership is the bigger asset. It is the founders' challenge and responsibility to decide about both management and ownership succession at the right time. Not too early to be able to build a stable internal management succession but, for sure, also not too late," Krauter says. "That is why, together with the Corporate Executive Board, we started evaluating different options for the future of cargo-partner."
Stefan Krauter continues to explain: "It would also have been a good option for the management and employees to continue going completely alone, but since the ideal new strategic owner was found in NX Group, we were ultimately convinced that this was the right way to go forward. Following the integration policy we have seen from NX Group so far, cargo-partner will remain cargo-partner in regard to both organization and branding – and it will become the strongest cargo-partner ever!"
The deal was signed on May 12, 2023 and will come into effect subject to the usual regulatory (anti-trust and FDI) approvals in an estimated four to seven months along with the subsequent closing.
"Both organizations will benefit from considerable synergies in global office coverage, an expanded service portfolio, strengthened regional, product and IT know-how, increased scale and others. NX Group will benefit from our strong and extensive network in Central and Eastern Europe that complements NX's existing network in an ideal way, and cargo-partner will jump several leagues in the Intra-Asian and Trans-Pacific trade lanes," Stefan Krauter states. He adds: "cargo-partner will also continue to work with its current global agents' network, strive to expand this section of its business and support it in future with its upgraded platform which is presently under development."
"I will personally continue to support the transition in my new role on the Corporate Supervisory Board and in my advisory function to the Corporate Executive Board. I will be focusing on smart partial integration with the new owners as well as on other matters regarding strategy, M&A and ESG. What an interesting and rewarding challenge at the end of my career!" Krauter says.
The sellers have been advised by J.P. Morgan (financial), ValueAdd (financial), BCG (commercial), Schönherr (legal), and Deloitte (accounting and tax) on the transaction.